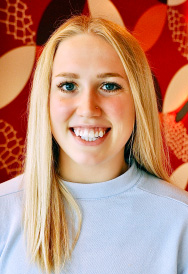 Alli Welsh
Instructor
certifications
Power Up

My Teaching Style
I try to make every class energizing and powerful! I am a cardio nerd so expect to see a more cardio based class, of course being mixed with strength exercises and other options for everyone to enjoy. I try to push each student in a way that they are challenged and grow each class but are not overwhelmed or discouraged. Music is something that really motivates me, so you will see an upbeat playlist that parallels where you are in class!
Experience
My Dragonfly journey began my freshman year of college in 2015. Throughout my life, I was a competitive swimmer and very active in other sports. When I came to college, I was searching for the same structure and push in my life that sports always gave me. I found Dragonfly and quickly realized that Dragonfly complimented every aspect of my life. Power Up specifically gave me that push I was looking for and empowered me mentally and physically. It was something I had always wanted to teach but never had the confidence. Finally, years later I pushed myself to sign up for teacher training, and I completed my Power Up certification in the Fall of 2019!
Why I Love Dragonfly
Dragonfly pushes me physically and mentally. It has forever changed my mindset and relationship with "working out" by making it something I get excited about. I remember having a break through moment when I was having a really hard day. I went to a Dragonfly class and came out with my mind and energy boosted. That was not only because of the workout, but more importantly the welcoming atmosphere and supportive instructors and students.
Little Known Fact About Me
I don't have a full name :) My parents couldn't decide between naming me Allison or Alyssa so decided to pick neither and just call me Alli.
Alli Welsh's Class Schedule