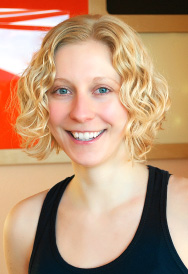 Alicia Miller
Instructor
certifications
200 Hour RYT
BarreAmped Bootcamp

My Teaching Style
I have found that my favorite yoga classes challenge me both mentally and physically and then offer periods of rest and restoration as a reward for all the hard work. This is the mindset I use when planning my own yoga classes. My hope is that students leave class feeling energized and ready to meet the rest of their day. I have practiced yoga with both upper and lower body injuries so I like to offer modifications throughout class knowing that not every pose is right for every person.
Experience
I've been practicing yoga on-and-off for about 11 years. I started practicing as a way to help reduce stress and anxiety. I joined Dragonfly in 2016 and I love all the different classes they offer, especially Yin. When I learned about the teacher training opportunities I knew it was something I had to do. I completed my Yoga Teacher Training with Tiffany Geier during the Winter 2016-2017 session. In addition to yoga, I also have a background in mindfulness meditation.
Favorite Pose
Virabhadrasana II (Warrior II) – I love this pose because it is so powerful. There are so many muscles involved and I love the challenge of engaging them all at once.
Favorite Quote
"When you recover or discover something that nourishes your soul and brings joy, care enough about yourself to make room for it in your life."​
- ​Jean Bolen
Why I Love Dragonfly
I love Dragonfly because it is such a friendly, welcoming community. There are so many different classes to try and each teacher brings his or her own unique style to the class. I love unrolling my mat after a stressful day and knowing that for the next hour I can just unwind and get lost in a flow…Plus there is nothing like stepping into the Hot Room on a cold winter day :)
Little Known Fact About Me
I love to take cooking classes and to try different foods from all over the world.