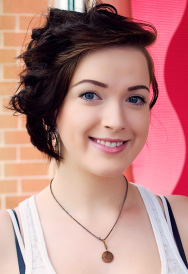 Alex Scanlon
Instructor
certifications
CYT

My Teaching Style
I strive to create a warm (literally!) and welcoming feel to all the classes I lead. Breath work is always emphasized; breathing exercises are such an amazing tool for relieving stress and really connecting to the present, whether it's on or off your mat. I like to teach challenging sequences with many different options and plenty of room for growing and playing with different poses. My hope is that throughout class you'll get the chance to reconnect with yourself while creating space within for kindness and mindfulness that you can take away with you into the rest of your day!
Experience
My yoga journey began in July of 2015 when I was offered to join the desk staff team right here at Dragonfly. (My very first shift was the day the Downtown studio had their grand opening!) I have struggled with anxiety since I was very young and by the time high school came around, I was desperate to find an effective outlet. When Dragonfly found its way into my life, everything clicked into place. I had the privilege of taking my first official hot yoga class from Megan and I've never looked back. For me, yoga wasn't just a workout. Although it challenged me physically, it gave me the chance I needed to vent all of the doubt and fear that accompanied my anxiety over the years. I have been dedicated to growing my practice ever since. That November I signed up for and completed the 200 Hour Teacher Training Program lead by the amazing Tiffany Geier right here at Dragonfly! Even after my very first class, I knew I wanted to give people a chance to discover the same feelings of accomplishment and empowerment that it had given me.
Favorite Pose
King Dancer Pose - I love that this pose is both graceful and powerful. By combining balance and strength, it forces my intention back to my breath while opening up the heart Chakra.
Favorite Quote
"Happiness can be found, even in the darkest of times, if one only remembers to turn on the light."
- J.K. Rowling
Why I Love Dragonfly
I knew instantly that Dragonfly wasn't just your typical yoga studio. It's a community in its own; the bonds between the instructors, staff, and clients are unlike anything I've ever experienced. It is truly a warm and welcoming space that is inviting to all. I will always consider Dragonfly my second home!
Little Known Fact About Me
I looove gardening; I even grow my own succulents! :)