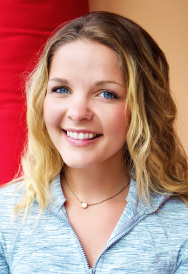 Abby Hudson
Staff
Experience
Fitness has always been a vital part of my livelihood. I have found over time that staying fit has helped me build confidence, find motivation, and feel more fulfilled.
I first tried hot yoga a few years ago to relieve stress and remove myself from the chaos I found myself facing as a student at UW-Madison. Ever since then, I have fallen in love with Dragonfly and the variety of classes they offer. My favorite class is Power Up – you feel amazing afterwards and it is a great alternative to the standard yoga class. I hope to use my coaching experience to one day become a fitness instructor at Dragonfly Yoga!
Favorite Pose
My favorite pose is Vriksasana, otherwise known as tree pose. I like this pose because it is a simple pose that attests to both your balance and strength. My tip to you: try the variation where you lift your arms above your head and sway them as if "they are branches slowly swaying in the wind" – you won't be able to look in the mirror without giggling.
Favorite Quote
"Here's to strong women; may we know them, may we be them, and may we raise them."
Why I Love Dragonfly
There is a certain sort of rejuvenating energy you get as soon as you walk through the front door. The instructors and staff are extremely welcoming, engaging, and are just genuinely good, down-to-earth people.
Little Known Fact About Me
I am a Girl's Lacrosse Coach at Middleton High School!