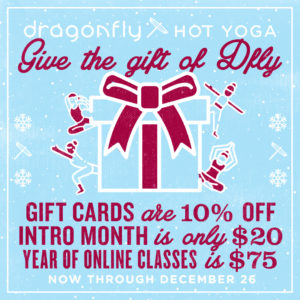 To celebrate the season we are offering three great deals to make your gift giving even easier. Buy them online or in the studio! These deals expire December 26, 2022 so don't delay! Want to give someone the gift of Dragonfly? It's as easy as downdog!
Gift Cards are 10% Off
Use promo code GIFT10 at checkout
Use promo code GIFT10 at checkout to get 10% off gift cards. They can be spent like cash on any of our products or services at our studios (Please note: not redeemable at dflyondemand.com). Gift cards never expire!
One Month of Unlimited Yoga is only $20
Give As A Gift Or For Yourself!
Use promo code GIFT20
Our One Month $40 Intro Offer is 50% Off! Buy the deal for someone on your list and receive a note card & envelope to give! If you would like to purchase an intro offer as a gift, please use this link:
If you are new to Dragonfly, give yourself the gift of yoga! You can use promo code GIFT20 at checkout to purchase the intro month for yourself online here:
Our intro month offer is valid for New Dragonfly customers only, no cash value. May not be combined with other offers.

One Year of Online Classes is only $75
Give As A Gift Or For Yourself!
Get big savings on Dfly On Demand! Enjoy one year of unlimited online yoga & fitness classes wherever you are, on your computer, smart TV, phone or tablet. Our annual subscription is normally $99, so this deal saves you more than 24%! A year of peace, self-care, and health is a thoughtful and necessary gift for someone else or for yourself! No promo code needed.
Sales ends 12/26/22. May not combine with other offers. Non-refundable.